Take a look at this brief video explainer
BIG NEWS – GET THE COURSE FOR FREE
(TIME-LIMITED SPECIAL OFFER) OR GET 50% OFF
IF YOU JOIN THE KITCHENTABLE COMMUNITY YOU GET THE COURSE FOR FREE!
The KitchenTable Community is a newly launched membership club for small agencies. We're currently running an early bird offer that gives you a month's Full Membership for free. That gives you free access to the course and all of the following:
More exclusive how-to content
Access to a marketplace where you can trade services with other members
Peer-to-peer support via our Slack group
Deals on products and services that can help you agency to soar.
There's no catch as you're not obliged to maintain your membership when the £9.99 monthly charges kick in.
To take advantage of the offer click here https://kitchentable.community/register/full-membership/. Once you've signed up we'll send you a coupon code that gives you free access to the course.
PLEASE NOTE: If you'd rather not join the community you can still have the course at a 50% discount – see details at the bottom of the page.
Testimonials
The Kitchen Table Agency course is a true investment to those looking to start their own agency, giving the user tools and most importantly a golden perspective to build the strongest business foundation in this field. 
The course unearths first hand industry knowledge in an easily comprehensible, bite-size format. 
A true gem that empowered the growth of my business.
— Rikesh Patel, founder WeTheSeeds creative agency
Packed with invaluable insights and delicious one-liners... John is a first mover in knowing where creative agencies are heading – the KitchenTable Agency course is a way to stay ahead of the curve.
— Becky Wixon, founder Lucid Juice music and video agency
I can honestly say I really like it! The bitesize sections are really helpful and motivating, as you feel like you are making progress through the course without having to give over big chunks of time per section. The tone of voice and energy is spot on too. 
– Ed Chinn, co-founder Eagle & Beagle corporate video production agency
What is the KitchenTable Agency Course?
If you work within the creative industries, the chances are you've dreamt of one-day having your own agency. And the chances are that you don't know where to start and find the idea a bit scary.
Well, you're in the right place. Whatever your profession – designer, developer, marketer, copywriter, video maker – having an agency needn't be difficult, if you do it my way.
In this course, I'm going to show you exactly how to start and grow and agency: step-by-step.
But, this is no ordinary kind of agency it's a KitchenTable agency.
You're not going to be burdened with overheads and complex HR issues. Instead you're going to take the smart route to success.
A KitchenTable agency requires no real estate (except a kitchen table, perhaps). And it needs no staff – apart from yourself and a team of remote working freelancers.
And this course, together with the accompanying KitchenTable Method book, gives you everything you need to trade in your nine-to-five or freelance job for a truly flexible lifestyle business.
It covers everything from:
Positioning to pricing
Prospecting to quoting
Tech to troubleshooting
You can see exactly what we'll cover just below – and you'll have a free PDF of The KitchenTable Method on hand to get you off to a flying start.
But before you commit to the course, you need to ask yourself two questions?
Do I want to develop my own agency that can be bringing in an annual £0.5 million within just a few years?
Do I really want to work flexibly from my home, favourite cafe or local boozer?
If your answers are Yes then all your other questions will be answered here.
Let's do this!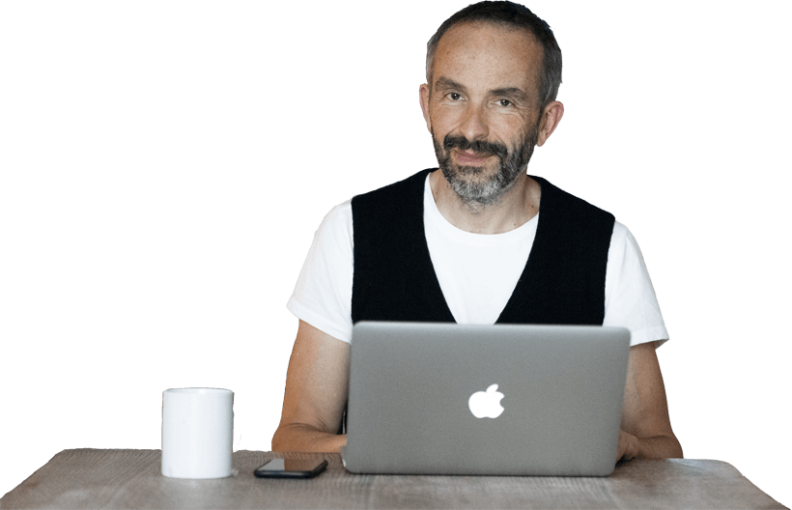 Hi, I'm your instructor John Ashton.
Back in 2012 I was a dissatisfied freelance writer: I needed more money, more time and more fun.
Let's set up a copywriting agency, I thought. So I did, with no cash to pay staff or rent (s)wanky offices.
My KitchenTable Agency was born and, within a few years it was turning over around half a million pounds a year.
I did this through trial and error. But you don't have to. I'm happy to show you exactly what worked and what fell flat on its face.
Ready to get going?
FAQs
What's a KitchenTable agency?
A KitchenTable agency is a small creative agency that usually has no offices or staff – apart from the owners – and instead employs remote-working freelancers.
It might offer design, development, marketing, video content, copywriting or any of the specialisms that fall within the commercial creative industries.
Of course, you don't have to run it from your kitchen table. You could equally well be based in your back bedroom, garden shed, favourite cafe or in a co-working space.
Who is the course aimed at?
There are two main audiences: 
1. Solo creatives (both freelancers and staffers) who like the idea of having their own agency but don't know how to go about it. Or they simply find the idea of running a business a bit scary
2. Existing KitchenTable agency owners who want to up their game. 
You might want your KitchenTable agency to be a sustainable lifestyle business, or you might see it as stepping stone to a scaleable 'bricks and mortar' agency – either is fine.
What does the course cover?
The course is really about the nuts and bolts of starting and running a KitchenTable agency. It covers subjects as varied as market positioning, pricing, quoting and dealing with difficulties.
For more details of the curriculum, see below. 
What is the course format?
A: The course is text only, so you won't need to listen to lectures or watch demos. 
There are 17 modules/sections each containing between two and five bite-sized lessons.
Are there any assignments and will they be assessed?
There are eight assignments at the end of the course. We recommend that you undertake them, but they are not compulsory and they will not be assessed.
Do I get a certificate at the end of it?
No. Certificates are for impressing potential employers. You're going to be your own boss. What you need is practical advice on running an agency, rather than a piece of paper. 
What's the relationship between the course and The KitchenTable Method book?
Think of it like this: the book helps you build the foundations for your agency and the course helps you build the walls and roof. 
The book should be your starting point – and you get a free PDF copy with the course. While the course necessarily reprises some of the book's content, it is far more granular and addresses a broader array of day-to-day challenges. 
Take a look at the course curriculum (and get a free preview of some of the lessons!)